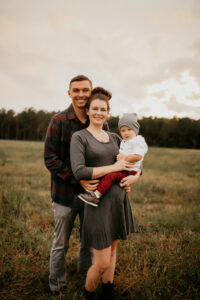 Hello!
My name is Tessa and I am the momma of 2 boys. I have 2 cats and have been married to my best friend for nearly 7 years. I'm from Florida but the military currently has us located in North Carolina.
Ocean Wild grew from my love of creating organic clothing for my oldest son. I found it really challenging to find truly toxin-free clothing for him that fit our style. I started researching fabrics and discovered many small shops selling certified organic fabrics and as my son's wardrobe grew so did my passion for sewing. I decided to launch Ocean Wild Threads to share these cute fabrics and styles with other families who may be in the same shoes I was. When you purchase an item from us you're not only supporting my family but you're also supporting many other small shops who I source my materials from. Everything I purchase has the focus of ethics and sustainability in mind, and I seek out other small shops as much as possible.
Thank you for taking the time to browse my little store, please don't hesitate to email me with any questions!